Here's What Users are Saying
"By far the best software ever. It has everything and is very user-friendly."
Gary Afable
Norwalk, CT
"Was searching for mind map software and really liked what your software has to offer and how easy it is to use. I tried a free version of one of your competitors and was ready to tear my hair out when I found yours. Thanks for a great product!"
Cynthia Szponder, Manager
Loveland, CO
"Absolutely fantastic product - very easy to use - loved it within minutes of installing."
Martyn Dominy, Director
Sydney, Australia
"SmartDraw is a great product, easy to use and incredibly well priced...a "no brainer" decision to purchase."
David Henderson
Hollister, CA
"SmartDraw saves me 30-40% of the time compared to other solutions. It accomplishes so much with a single click!"
Jeff Baker
Larkspur, CA
Brainstorming Software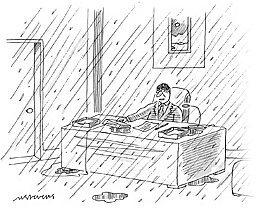 The Secret to Unleashing Your Creative Genius
Scientific research shows that our brains like to work using association and visual patterns. So it only makes sense to allow our minds to use these natural methods in the most efficient manner possible.
Mind maps are an ideal tool for brainstorming. They encourage our minds to use the natural process of association. Ideas develop in a more free-form manner; unlike the restrictive linear "laundry list" system most of us have been taught to use.
Fast, Automated Mind Maps Free You to Capture Your Creativity in Real Time
SmartDraw gives you fast, automated mind maps that are the perfect tool for brainstorming, planning, and managing information.
Action Buttons Let You Build Mind Maps at the Speed of Thought
When you move your cursor over one of the shapes in a SmartDraw mind map, you'll notice a gold outline with four arrows appear. These are action buttons, and they make building a mind map effortless.
Click on one of the arrows to add a shape in that direction. SmartDraw will add the most recently used symbol type with an automatic connecting line. To change symbol types, select the type you want in the SmartPanel.
Awesome-Looking Compact Formats
With our one-click Use Compact Formatting control, your mind map will fit into a small space and look more attractive—no matter the size or scale.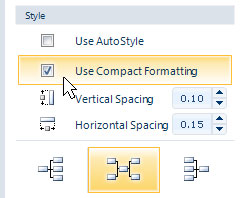 And what's more, the Use Compact Formatting control can be applied when creating or charts and family trees in SmartDraw, too.

Use Your Mind Map as a Project Plan
SmartDraw mind maps can easily be turned into project plans. Just click the Project View button and you'll get an automatic Gantt chart for assigning tasks and scheduling implementation.