Automated Cause & Effect Diagram Software
SmartDraw is absolutely the easiest way to make cause & effect diagrams and decision trees in just minutes. Simply select a cause and effect template, input your information, and SmartDraw does the rest, aligning everything automatically and applying professional design themes for professional-quality results every time.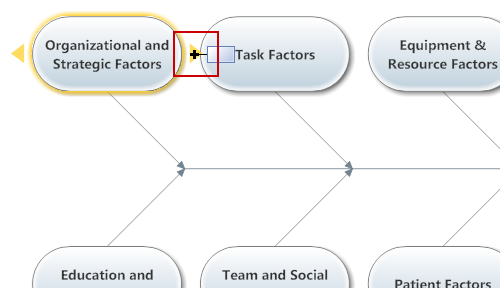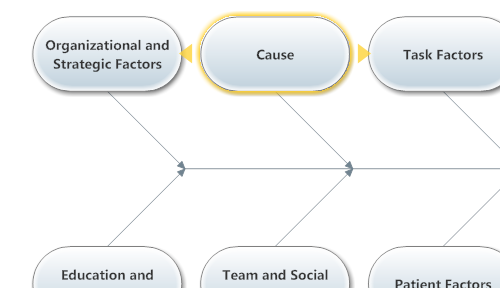 What is a cause and effect diagram?
Originally developed by Kaoru Ishikawa to visualize the causes of a specific problem, the cause and effect diagram has come to be known by several names: Cause and Effect, Fishbone, or Ishikawa diagram. A cause and effect diagram is one of the seven basic quality control tools and it is commonly used to determine components needed for a desired outcome.
One of the reasons cause & effect diagams are also called fishbone diagrams is because the completed diagram ends up looking like a fish's skeleton with the fish head to the right of the diagram and the bones branching off behind it to the left.
To create a cause & effect diagram, you start by writing the main issue or problem in a box that is typically to the center right portion of your drawing area. This is your fish head in the fishbone diagram. A line called the "spine" or "backbone" will extend to the left of this box. The branches that angle off the spine each represent a cause that has some effect on the main issue. Each of these branches may also contain additional sub-branches.
A cause & effect or fishbone diagram is used to examine why something happened or might happen by breaking up the issue into smaller, more easily understandable categories.
Root Cause Analysis for Lean Methodology
A cause & effect diagram is used in Lean for conducting root cause analysis. It is a problem-solving tool that lets teams visually examine what factors, or causes, contribute to a known result, or effect.
In the past, root cause analysis diagrams were often drawn by hand, because most diagramming programs require too much time and manual effort. SmartDraw's automated cause & effect diagrams are so fast and easy to use, this is no longer the case.

Automated cause & effect diagrams in SmartDraw are easy--just open a blank template like this one.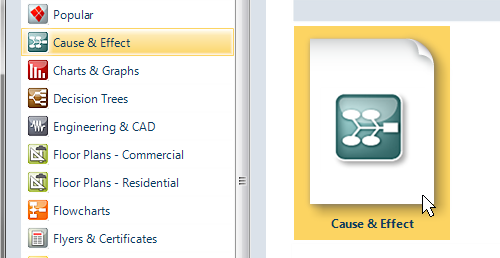 Highlight the labels and type to add text. Add more cause or detail symbols with a click. SmartDraw automatically builds branches and realigns your diagram for you, keeping everything looking neat. Delete or move a cause, and SmartDraw reformats your diagram automatically so that everything is aligned perfectly.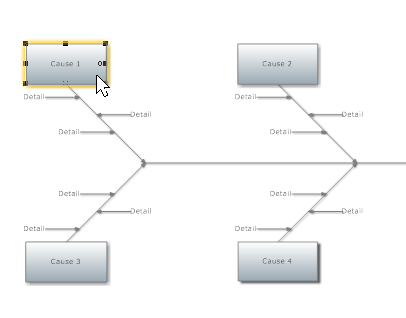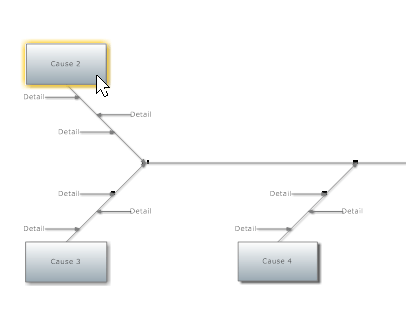 You can even add pictures, notes, documents, and hyperlinks in your diagram. And with a click, send it to any Microsoft Office® file, insert it into a PowerPoint® presentation, or share it on the web.
Top reasons SmartDraw is ideal for creating cause and effect diagrams:
Automatic Cause & Effect Formatting
Click simple commands and SmartDraw builds your cause and effect diagram for you, automatically. Add or remove a cause and SmartDraw realigns and arranges all the elements so that your diagram continues to look great.
Quick-Start Fishbone Templates
Dozens of professionally-designed cause and effect diagram examples will help you get started immediately. Simply choose the fishbone template that is most similar to your project, and customize it to suit your needs.
Share Your Completed Cause& Effect Diagram
You can export your completed cause & effect diagram into Microsoft Word®, PowerPoint® or Excel® with a single click. Select the Share option, and your diagram will be accessible from any web browser or mobile device to team members who might not even own SmartDraw.
Free Support
Got a question? Call or email us. SmartDraw experts are standing by ready to help, for free!
Discover why SmartDraw is the easiest and best cause and effect diagram software.
Try SmartDraw FREE.