Infographics Software That's Ridiculously Easy to Use
SmartDraw infographic software makes it super easy for anyone to use—even if you don't have drawing skill. More than 50 templates and examples get you started quickly.
You Don't Have Any Artistic Skill? Perfect!
You don't have to be blessed with great artistic skill or have a graphics designer on staff to create professional-looking infographics. All you need is easy-to-use infographics software from SmartDraw.
How to Make a Great-Looking Infographic in Three Easy Steps
SmartDraw infographic software gives you a variety of templates and examples. Just open up the one that suits your purpose and you're ready to make an infographic.
Step 1. Start with an Infographic Template
With our infographic software, you get a wide assortment of profesionally designed templates. For this example, let's build an infographic using the USA Data Map.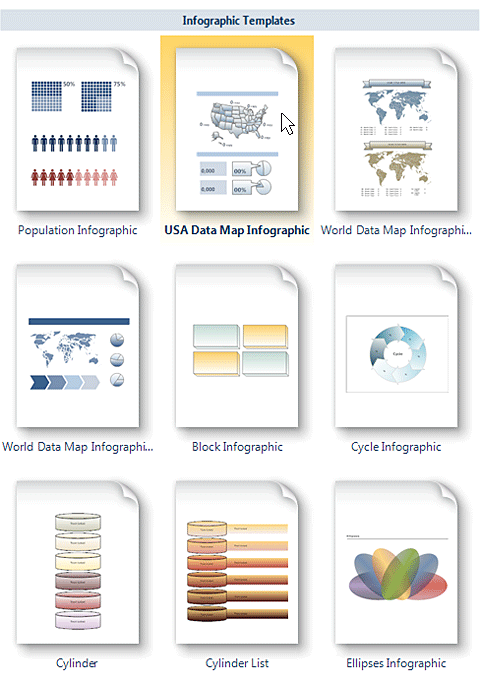 Open the template, then type in a title, subtitles, and add other information such as regional names and statistics. In just a minute or two, our infographic begins to take shape.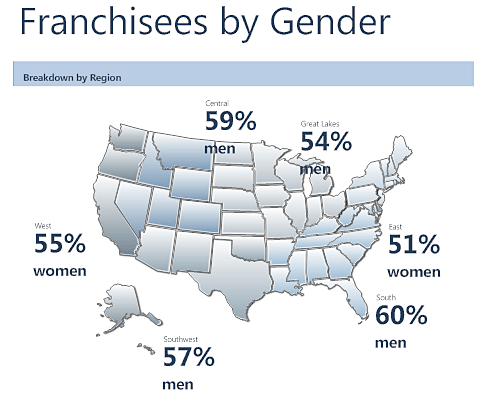 Step 2. Change colors of states to show them by region.
Next, let's change the appearance of our map by adding some color. We want to highlight the states in each region by selecting some contrasting colors. To do this, we just hold the Ctrl button and click each state within the region.

Once they are highlighted, we click on the Fill button and select the color we want. We continue to do this for each region on the map.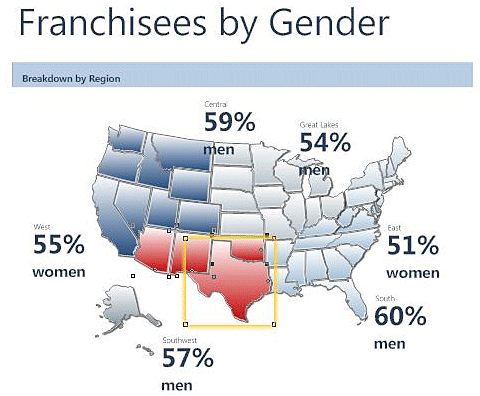 Step 3. Add a Data Section to the Infographic
Now let's move to the lower portion of the infographic. Add some relevant data. For the pie charts, just drag the line divider to the correct percentage. Select symbols from the SmartPanel to place in your infographic by just clicking on them adding them where you want.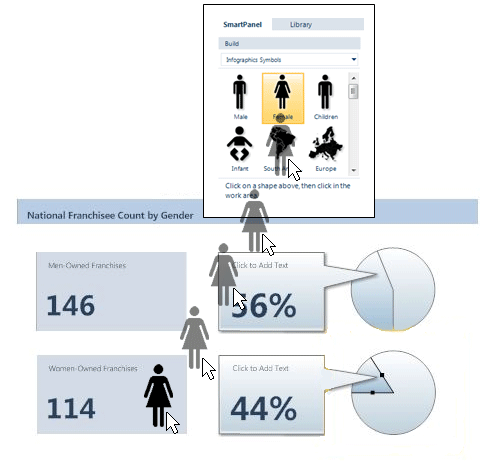 In just a few minutes, you have an infographic that looks like it could have been produced by a professional graphics designer. But you were able to do it without any drawing at all. Try doing that with other infographics software!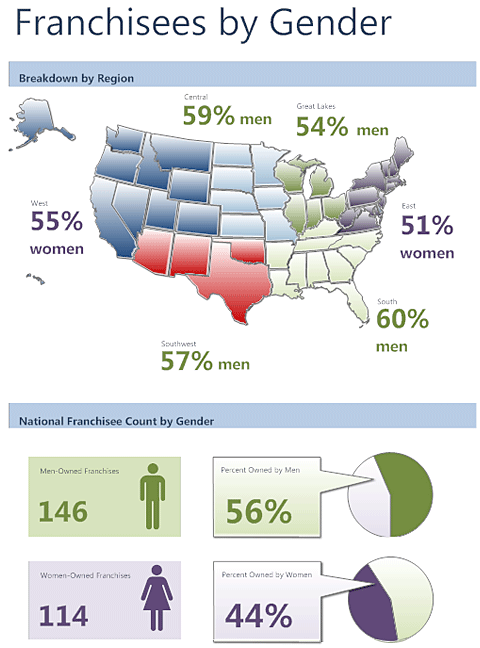 More Reasons Why SmartDraw is the Best Infographics Software Available
SmartDraw isn't just easy infographics software. It's also powerful. For example, look at the the ways you can publish and share your infographics:
Insert it into a Microsoft Office® file (Word®, Excel®, PowerPoint®) with a single click.
Email it using Outlook® with a single click (a copy of the file in SmartDraw format will automatically be attached and an image of the diagram will appear in the body of the email).
Make a PDF copy with once click.
Use the Share button in SmartDraw to:

Let people you specify view the file online (they will receive an email notification; they can view your diagram but won't be able to open or edit it). They don't need a copy of SmartDraw to do this.
Post it on your website or blog.
Share it on Facebook, LinkedIn, Twitter or Google+.
There are more than 40 templates and 15 infographic examples to help you create a professional-quality diagram in minutes.
If you need help, our friendly, trained experts are only a phone call or email away. Even if you're just giving SmartDraw infographics software a try... we provide free support.