Kanban Board Software
SmartDraw Kanban boards are a fast, easy and effective way to manage tasks. Simply open up one of our ready-made Kanban templates and start typing. That's all there is to it. Add, delete, or move tasks. SmartDraw keeps your information organized and your Kanban board neat and orderly. And best of all, you can try it at no cost. Just click for a FREE Kanban board software download.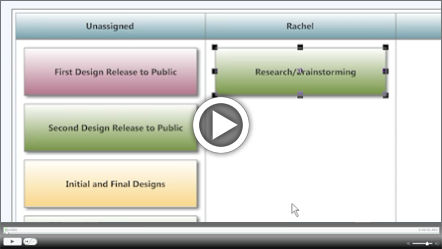 Choose Your Kanban Board Type: Simple or Project
A simple Kanban board diagram is perfect for smaller projects or to keep your "to-do" list in order. Here is an example of a basic "three bin" Kanban board for a construction project.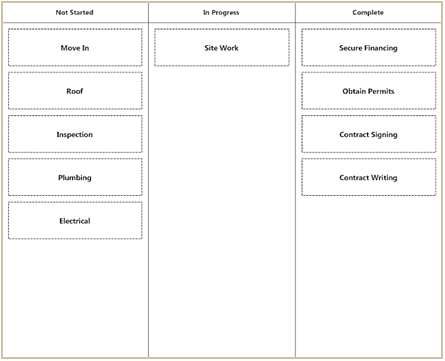 As you can see, the Kanban board works very simply. Each task is given a card, and as progress is made, the card is moved across the board to the right. It's easy to see at a glance where tasks are in the process.
In the past, many proponents of Lean and Agile methodology used sticky notes on white boards for this purpose. SmartDraw is just as quick and easy, but with the added benefit of having an electronic record. SmartDraw Kanban boards can be sent to your Microsoft Office® documents with a single click. It's also easy to share SmartDraw Kanban boards online with others--even if they aren't SmartDraw users.
SmartDraw Makes Kanban Boards Smarter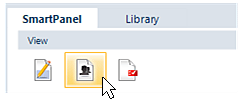 For team projects, SmartDraw gives you three different perspectives of your Kanban project data: progress view, assignment view and category view. This is a perfect way to keep tasks organized by groups and among team members.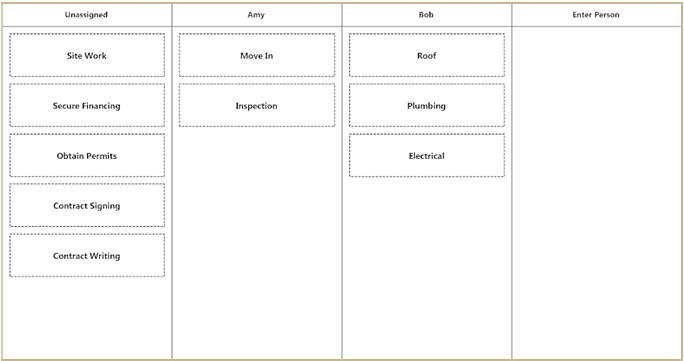 In this Kanban board example, we have clicked the assignment view tab. All of the tasks displayed in the top table are shown in the Unassigned lane. We added Amy and Bob to the table and now simply drag the tasks they are responsible for into their lanes.
Now each person on the team can see, at a glance, what tasks they need to complete.
Top Reasons Why SmartDraw is ideal for making Kanban boards:
Automatic Kanban Board Formatting
SmartDraw gives you pre-formatted Kanban boards. Just click to add or remove lanes and Kanban cards. Simply drag cards from lane to lane.
Quick-Start Kanban Templates
Get started quickly with one of our ready-make Kanban templates or examples. Color code your Kanban cards with one of our professionally designed themes or create your own.
Share Your Completed Kanban Board
Export your completed Kanban diagram into Microsoft Word®, PowerPoint® or Excel® with just a click. Select the Share option to make your Kanban board accessible online from any web browser or mobile device to team members; even if they don't own SmartDraw
Free Support
Got a question? Call or email us. SmartDraw experts are standing by ready to help, for free!
Discover why SmartDraw is the best Kanban board software available. Try SmartDraw FREE.