Presentation Graphics Software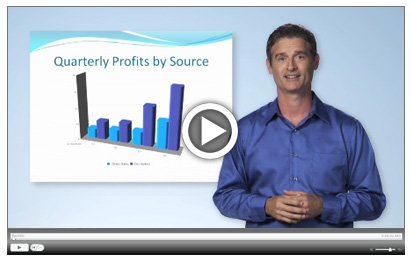 Visuals communicate up to six times more effectively than words alone. SmartDraw makes it possible to replace boring text bullets with powerful graphics and diagrams of all kinds for more engaging, effective, and memorable presentations.
With SmartDraw you plan and create your presentation visually in a storyboard format. When you're ready, SmartDraw builds your entire PowerPoint® deck for you automatically. You get professional graphics and a great visual presentation without ever having to even open PowerPoint®.
A better way to compose, manage, and deliver visual presentations using charts and graphics
Plan out your presentation visually using SmartDraw's storyboard feature. Easily re-order your slides adn graphics by dragging and dropping.

Once you have all your slides set, click Build and watch as SmartDraw builds your entire PowerPoint® presentation for you, automatically!

Using a graphic in a slide beats boring bullets every time, but revealing a visual in a series of steps can increase comprehension tenfold. SmartDraw builds this in automatically.

Use the custom library feature to store slides you use most often.
No matter how many graphics you add, your entire presentation is contained in a single SmartDraw file, making it easier to manage all of your presentations. To make a change, simply double click the visual.

Create powerful presentation visuals of all kinds:
Mind maps
SWOT Analysis
Product Life Cycle
Venn Diagrams
Marketing Mix
Lifecycle Diagrams
Marketing & Sales Process
Strategy Maps
Marketing Maps
Competition and Growth-Share Matrix Diagrams
Balanced Scorecard
Affinity Diagrams
Sales Presentations
Pyramid Charts
Flowcharts
Business Plans
Feature Comparisons
And more!