Easy Project Planning Software
SmartDraw's automatic project planner creates your project plan for you in minutes. Start with a project template mind map, add your tasks, dates, and who will be responsible. Then, with a single click, SmartDraw automatically converts your mind map into a project plan, generating an assignment view, Gantt chart and timeline view.
See why SmartDraw is the easiest project planning software: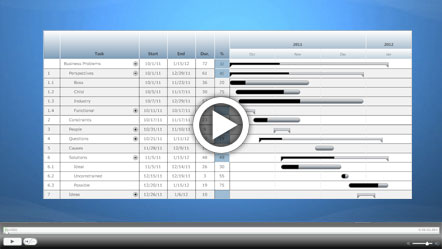 Avoid these common project planning mistakes:
Broad, badly defined tasks that are never broken down to see what is actually involved
Incorrectly estimating the time to completion and resources required
Not measuring the progress of the tasks and inability to hold team members accountable for meeting deadlines
Four keys to successful project planning:
Break down tasks to appropriate levels of detail
Develop a schedule with measurable milestones
Allocate resources and hold team members accountable
Measure progress
Top reasons SmartDraw is so easy for anyone involved in project planning:
One-Click Mind Map to Project Chart Conversion
Use a mind map to brainstorm everything that needs to get done. Once your project is completely scoped out, convert it to a project plan with a single click. Project planning has never been easier or more thorough.
Automatic Formatting
Click simple commands and SmartDraw builds your project plan for you, automatically. Add or remove tasks, change start or end dates, and SmartDraw realigns and arranges all the elements so that everything looks great.
Quick-Start Templates
Dozens of professionally-designed project planning examples for common projects make you instantly productive. Simply choose the template that is most similar to your project, and customize it to suit your needs.
Microsoft Project® Compatible
Need to share your project plan with Project users? No problem. Export your plan to a Microsoft Project file with a single click.
Free Support
Got a question? Call or email us. SmartDraw experts are standing by ready to help, for free!
Discover why SmartDraw is easy project planning software. Try SmartDraw FREE.