Value Stream & Process Flow Diagramming Software
The secret to creating value stream diagrams quickly? Exclusive automated design technology found only in SmartDraw.
Documenting value stream and process flow are essential for analyzing and improving business operations. SmartDraw makes creating value stream maps, process flow diagrams, and other visuals fast and easy for anyone, thanks to our automated design.
Let's take a quick look at a couple of popular diagram tools that can sometimes be confused or misunderstood
Value Stream & Process Flow
The process flow diagram, or process map, is structured like a flowchart. It is also often referred to as a flowsheet. Traditionally, process flow diagrams were used in chemical and process engineering. The purpose of the diagram was to show the general flow of processes through plant equipment.
Because of their effectiveness in communicating complex information, the use of process flow diagrams now extends to a wide variety of uses across business, industry, service and public sectors
Process mapping uses a flowchart and adds detail, such as input and output associated with each step. This type of diagram is often presented vertically, as in the diagram shown below.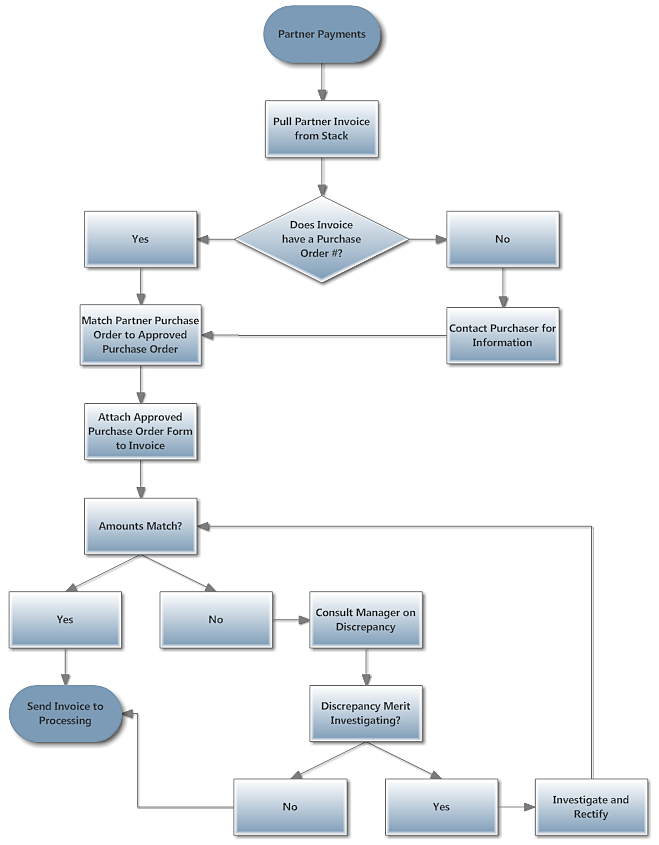 A value stream map is usually associated with a production process. It is useful for organizations seeking to document material and information flow. It also uses a structure similar to a flowchart, but adds other information such as time required to complete each step, delay time, and transit time. When used in Lean, a value stream map also identifies steps as value-add or non-value add. This is done to eliminate waste in the process.
Value stream maps are typically presented horizontally, as shown below.
Value Stream and Process Flow Diagrams are Made Easy with Automation
SmartDraw is the best way to create a value stream map or process flow diagram because it does the drawing for you. Open up one of our professionally designed templates. Click on an action button. Our value stream and process flow diagramming software places a new shape in the right position, and adds the proper connecting lines and arrows for you.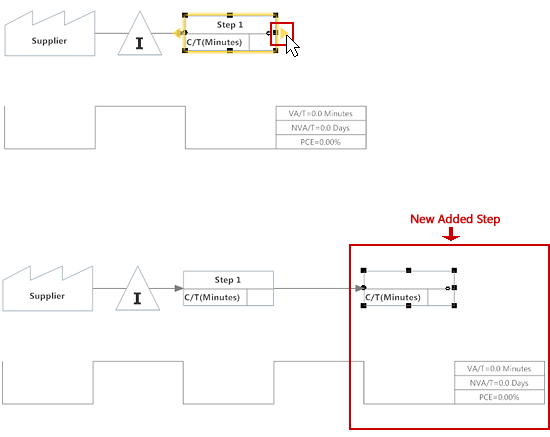 Easily make changes, too. Add, delete, or move steps around. SmartDraw automatically reformarts your diagram. This means everything remains perfectly spaced with proper connecting lines. And your data will also be automatically recalculated.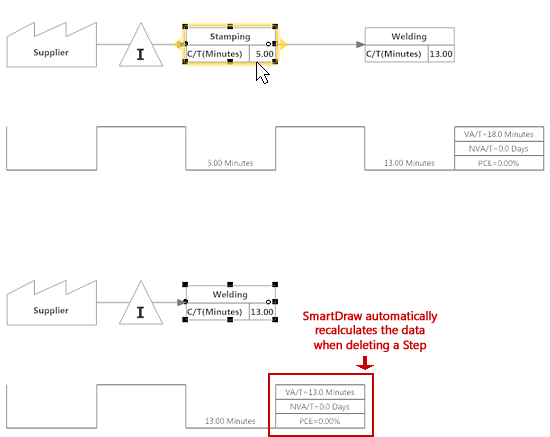 No other diagramming program gives you this much power combined with such ease of use.
Three More Reasons Why SmartDraw is the Best Value Stream and Process Flow Diagram Software Available
Quick-Start Templates and Extensive Library of Symbols
Our professionally designed templates and examples get you started quickly. Simply open up the template you want, and you're building a flow diagram in seconds. It's simple, intuitive, and will give you a professional-looking result every time
More than 70 Other Diagram Types are Included
SmartDraw gives you a wide assortment of diagram types and more than 4,900 templates. Use it to create flowcharts, data maps, floor plans, network designs, timelines, decision trees, and more.
Free Support
Have questions? Need help getting started on your diagram? Just call us or send an email. Our trained experts are standing by, ready to help, at absolutely no cost.
Discover for yourself why SmartDraw is the best value stream and process flow diagram software you'll ever use. Try it now, FREE, with no obligation