Affinity Diagram Software
Affinity diagrams are easy to make with SmartDraw. Just open up an affinity diagram template and type in your ideas or information. SmartDraw doesn't force you to start with a blank canvas, like most programs do. Our affinity diagram templates are designed for ease of use—no drawing is needed. Just use the SmartPanel to quickly and easily add or remove rows and columns.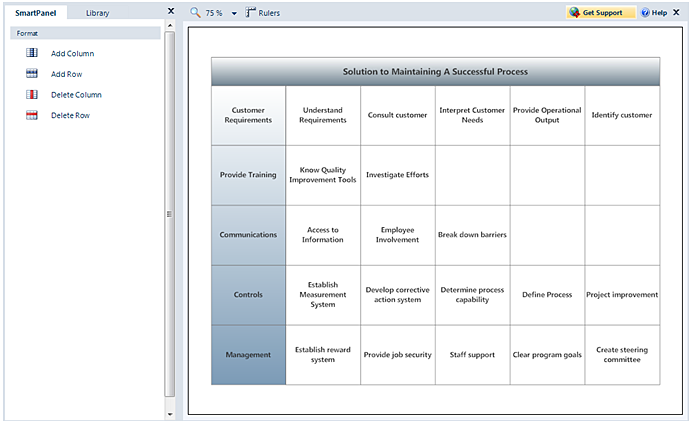 Professionally designed themes let you change the look of your affinity diagram with a click. Using affinity diagram software from SmartDraw ensures your chart looks great and is ready for a presentation or report.
SmartDraw integrates with your Microsoft Office® suite, too. Insert your diagram into a Word® or Excel® file, an Outlook® email, or a PowerPoint® deck with a single click. You can also publish and share your affinity diagrams online with ease.
And with SmartDraw, you get so much more than just an affinity diagram program. There are more than 70 different types of charts, graphs and diagrams—with over 4,900 templates included.
So whether you are working on a Lean Six Sigma project or simply brainstorming a new concept or an existing business process, SmartDraw is the best affinity diagram software available.
Want more information? Check out our guided tour video.
Discover for yourself why SmartDraw is the best affinity diagram software you'll ever use.
Try it now, FREE, with no obligation.