Flowchart Templates
---
A flowchart lets you visualize a process for your business. These processes are often unique to your specific organization so it may seem counterintutive to want to use a template. However, every flowchart shares some common elements like a starting symbol, a few process steps, and an ending symbol. If you just can't work with a blank screen, a basic flowchart template will help you get started.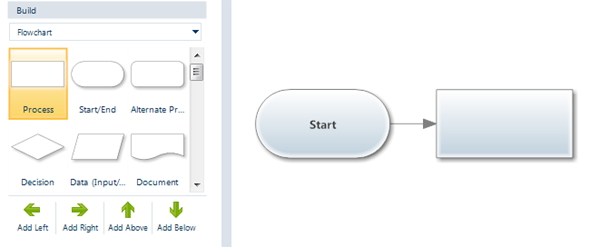 Learn more about common flowchart symbols.
If you're really stuck, you can go one step further and start with a more filled out template that's most like the process you're trying to document yourself. If you need a collection process flowchart, start with a collection process flowchart template. Then just modify our template to better fit your custom circumstances.
SmartDraw contains hundreds of professionally-designed flowchart templates and examples
SmartDraw is the easiest way to create flowcharts and other diagrams. You can start with the flowchart template you need, customize it with your own information, and SmartDraw does the rest, aligning everything automatically and applying professional design themes for professional-quality results every time.