Garden Design & Layout Software
Whether your garden plan is simple or complex, residential or commercial, large or small, SmartDraw garden design & layout templates give you a fast, professional result.
When it comes to garden design & layout software, there are many options. Inexpensive programs usually leave you with an amateurish result. CAD programs are hard to learn and very expensive.
SmartDraw gives you a better alternative. Not only does SmartDraw cost a fraction of expensive CAD programs, but you can be drawing a garden design & layout just minutes from right now.
SmartDraw is easy to use because it does so much of the drawing for you. Start with one of hundreds of garden design templates from basic to complex layouts for homes, parks, and office buildings. If you prefer, you may start with a blank canvas and design your garden layout from scratch— it's easy to do, even if you aren't blessed with drawing skill.
Templates and Examples Get You Started Fast
Start designing your layout with a ready-to-use garden design template...
or create your own with a blank garden plan.
Simply click on a property border and type in the dimensions to resize it. SmartDraw works in both US/Imperial and Metric standards of measure.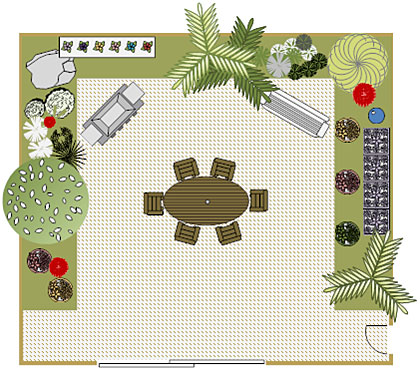 Add elements such as walls, fencing, trees, shrubs, turf, hardscape, lighting, furnishings, etc. from a huge library of symbols and images.
Give your garden plan a finished look by adding color, texture (such as brick, wood grains, stone, etc.), and gradients by simply pointing and clicking.
Plus, SmartDraw automatically creates your garden design & layout plan in builder's scale so it functions as a blueprint when printed in full size.
Use snaps to attach and lock elements to walls, or turn the snaps feature off to manually place objects anywhere you want.
Insert hyperlinks to web pages or other SmartDraw files; add photos and notes to your garden design. Insert your drawing into an Office® document or an Outlook® email with just a click. Share it publicly on your favorite social network or privately with anyone you choose.
Garden Design & Layout... and So Much More
You may also use SmartDraw to create:

Home plans
Kitchen remodels
Bathroom layouts
Closet & storage plans
Laundry room plans
Garage layouts
Designs for attics & basements
Irrigation plans
Electrical plans
Home office designs
Commercial building plans
... and much more!
Four Reasons Why SmartDraw is the Best Garden Design & Layout Software Available Anywhere:
Quick-Start Garden Design & Layout Templates
Dozens of garden layout examples will give you an instant head start. Choose a template that is most similar to your garden design and customize it quickly and easily.
Extensive Design Symbol Library
You'll get thousands of ready-made symbols for walls, fences, plant, shrubs, paths, pools, spas, fountains, furniture, and more.
Ease of Use
SmartDraw helps you align and arrange all the elements of your garden design & layout perfectly
Free Support
Have a question? Call or email us. SmartDraw experts are standing by ready to help, for free!
Discover why SmartDraw is the best garden design & layout software available today. Try SmartDraw FREE.