Organization Chart Templates
---
One of the easiest way to build an org chart is to start from a template. You can start with a horizontal layout, an inverted layout, or bottom up template. Then all you have to do is customize the template by adding information about your own organization.
You can import data to customize your org chart template or you can format your org chart using photos and other techniques you can learn about in our "How to Draw an Org Chart" article.
A basic organizational chart template
An organizational chart lets you visualize the structure of a company. Most org charts take on a pyramid shape with a CEO or manager at the top and lower-level employees under various department heads.
See a completed example of an org chart: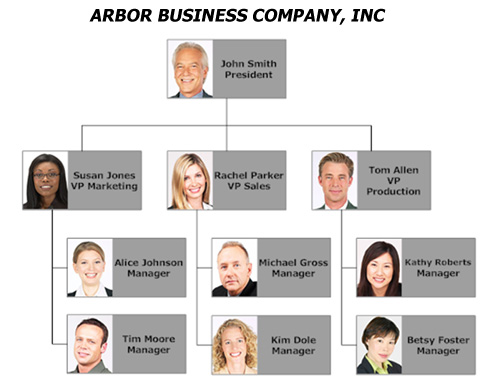 If you need organizational chart templates, SmartDraw has you covered.
Download our org chart templates and discover why SmartDraw is the best way to create organizational charts.
Try SmartDraw FREE.