"Smartdraw is the most user friendly and intuitive project management GANTT chart software a small consultancy, such as mine, can have."
Daniel Moon
"Great product. Actually really amazing. The Mindmap and conversion to Gantt is amazing. I can see myself using it over and over. Great planning software."
Fr. Phil Daley
"Efficient and time saving software that helps our team to communication visually and more effectively."
Jack Dyer
"I was at a meeting and someone said that we needed to chart out the project. I volunteered, used your Gantt charts, and everyone thought I was a genius. You made me look good."
Don Axford
"I was searching for a program to create my own forms, as well as a search for making Gantt charts. When I looked at all the options available I just HAD to purchase."
Katharine Greenfield
Gantt Chart Software
Only SmartDraw lets you switch between four different views for your project, making it easy to brainstorm projects, run meetings, manage deadlines, and create reports. Simply input your information and SmartDraw's built-in automation does the rest.
Top reasons SmartDraw is the ideal project management chart (Gantt chart) software:
Automatic Formatting
Click simple commands and SmartDraw builds your Gantt chart for you, automatically. Add or remove tasks, change start or end dates, and SmartDraw realigns and arranges all the elements so that everything looks great.
Four Different Views of the Same Data
SmartDraw allows you to view the data behind any project chart as a mind map for easy brainstorming, as an assignment for productive project status meetings, and as a timeline for quick reports. Simply choose the right view for the occassion with a single click. Changes made in any view will be automatically reflected in the project chart and all other views as well.
Built-In Accountability
The Assignment view lets you see who is doing what at a glance. You can see the progress for each task, color coded to show when something is late or when a task is complete.
Intuitive Controls
To help manage even the largest of project charts, SmartDraw's floating toolbar lets you control the level of detail you see and helps you scroll through large charts.
Smarter Organization
With SmartDraw, you can group related tasks quickly using one-click controls and the length of the parent task will reflect the length of all the child tasks automatically.
Assigning Tasks is a Breeze with Built-in Teams
Once you enter a person's name into a project chart as a resource, SmartDraw will add it to your virtual list of team members and offer it to you every time you build a new project chart. Assigning another task to the same person will be much quicker the second time around.
Powerful Customization
You can control how days and holidays are displayed on your chart with just a few clicks. You can choose the timeframe, holidays, and even choose which columns you want to display on your chart.
Save Time with Custom Task Libraries
If your team performs the same tasks repeatedly, sometimes within a single project or even across multiple projects, you can save time by taking that group of tasks and saving it to your own custom library. Your library will not only save the hierarchy of the tasks you add, but also the person assigned to each task and the duration of the tasks added. Then, when you want to add that group to a new project, you can simply drag-and-drop it to your chart instead of typing in the same sequence repeatedly.
Microsoft Project® Compatible
Need to share your Gantt chart with people who still use Microsoft Project? No problem. Export your chart to a Microsoft Project file with a single click.
Free Support
Got a question? Call or email us. SmartDraw experts are standing by ready to help, for free!
See How Easy Managing Projects is with SmartDraw
Click here to see a video about project management with SmartDraw.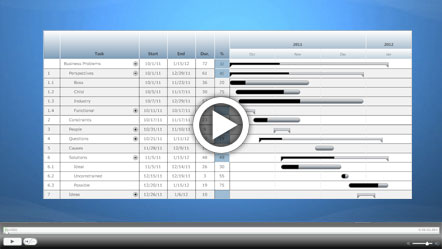 Project Chart Example
Here's an example Gantt chart created with SmartDraw.
What project charts are and how they help you:
A Gantt chart (commonly known as project chart) is used extensively by project managers and other people involved in scheduling. While it is similar to a timeline in that it deals with time and events, the format and purpose of a Gantt chart is very different. The Gantt chart is a table with one task for each row and time in the columns. The unit of time chosen depends on the length and detail of the product, but some common units are weeks, quarters, months, and years. Usually there is a column at the left listing the tasks, then columns for start date, end date, and duration, followed by the columns for time. Each task has a bar extending across the time columns, representing the duration of the task. Milestones and critical path lines may also be used to add further detail to the chart. Milestones are important checkpoints or deadlines represented by small symbols in the time columns. Critical path lines connect task bars to indicate a dependence of one task upon another's completion or commencement.
Discover why SmartDraw is the perfect project chart software. Try SmartDraw FREE.