Strategic Planning Template
Improve your strategic planning process through the use of powerful strategic planning templates.
Visualize your plan with marketing diagrams
Brainstorm ideas using mind maps
Optimize your processes with flowcharts
Communicate your strategic plan with a better visual presentation
SmartDraw provides hundreds of professionally-designed templates to make your strategic planning process a breeze. Start with a strategic planning template and you'll be instantly productive.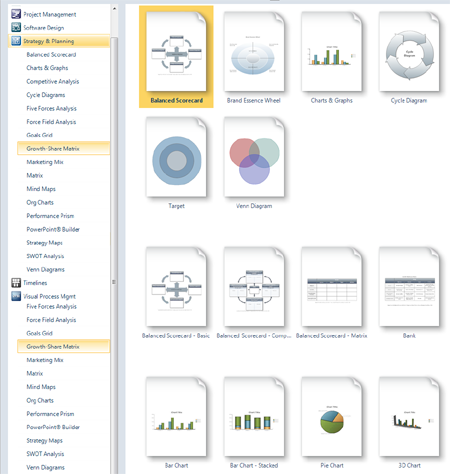 Simply select a template, input your information, and SmartDraw does the rest, aligning everything automatically and applying professional design themes for presentation-quality results every time.
A Strategic Planning Template - Balanced Scorecard
See more balanced scorecard examples created from our templates.
SmartDraw is the best tool for your strategic planning process:
Professional Strategic Planning Templates
Hundreds of quick-start templates and examples make you instantly productive. Simply choose the strategic planning template that is most similar to your project, and customize it to suit your needs.
Automatic Formatting
Click a few buttons and SmartDraw builds your diagram for you, automatically. Add or remove an element, and SmartDraw realigns and arranges everything automatically for great results every time.
Seamless PowerPoint® Generation
Plan your presentation with a SmartDraw storyboard, include some compelling strategic planning charts and diagrams, then click "Build" and SmartDraw creates your PowerPoint presentation for you!
One-Click Microsoft Office® Integration
Export your chart into Microsoft Word®, PowerPoint® or Excel® with a single click.
Free Support
Got a question? Call or email us. SmartDraw experts are standing by ready to help, for free!
SmartDraw has the strategic planning template you're looking for. Try SmartDraw FREE.