Value Chain Analysis Software
SmartDraw is the best value chain analysis software on the market today. Why? Because it's the only program available that combines easy value chain diagramming with professional-quality results. Anyone—novice or expert—can make drawings or diagrams of any kind in minutes.
But SmartDraw value chain diagrams are more than just easy to make. They also provide a presentation-quality finish, every time. Get a professional-looking value chain diagram without spending time learning difficult software or having to hire a graphics artist. In fact, you don't need to possess any artistic skill at all to use SmartDraw, because it does most of the drawing for you.
Value Chain Analysis Templates Get You Started Quickly
SmartDraw lets you quickly create your diagram by starting with a ready-made value chain analysis template.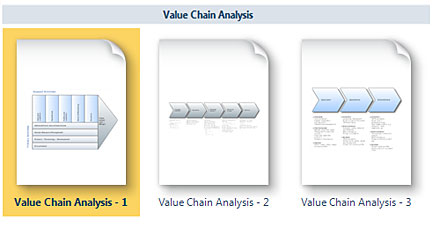 Simply open the template you want, and then click to change or add text. Use one of the pre-set designed themes and quick styles or choose your own colors, fonts and line styles to customize the diagram to suit your tastes.
Supercharge Your Value Chain Diagram with Notes and Hyperlinks
Easily add notes, pictures, objects, Excel® charts, and hyperlinks to your diagram.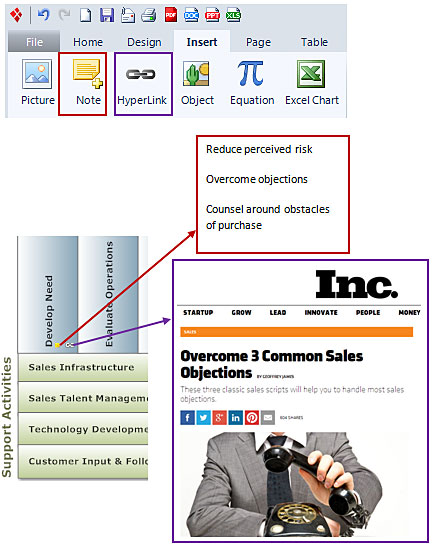 More Reasons Why SmartDraw is the Best Choice for Value Chain Analysis and Other Types of Strategic Planning Diagrams
Thousands of templates and examples
An extensive library of symbols
Creating and editing value chain diagrams is fast and easy
Integrates with your MS Office® programs—insert your diagram into a Word®, Excel®, or PowerPoint® file with one click
Free support—even for trial users. Just call or email—our team of trained specialists is ready to help you create your value chain diagram