Automated Value Stream Mapping Software
SmartDraw makes it fast and easy to create value stream maps... automatically. This value stream mapping video takes you on a quick tour of the value stream mapping template in SmartDraw: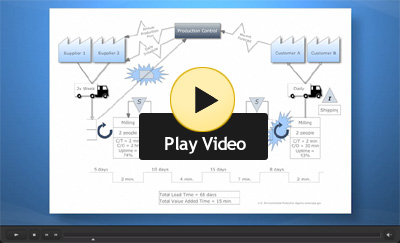 At Last! Truly Automated Value Stream Mapping
Value stream maps (VSM) are an essential tool for organizations applying Lean methods. They provide a vital tool for identifying waste and improving process efficiencies in a wide range of industries.
SmartDraw's exclusive automation technology built into our value stream mapping template applies the Lean approach to value stream maps, reducing your time and effort to create a VSM.
Capture the Value Stream Mapping Process in Real Time
SmartDraw lets you add steps in your VSM with just a click. Each step also builds an associated timeline with value-add time and lead time in the diagram. Enter your known data inputs and SmartDraw will calculate takt time, lead time, value-add time, and process cycle efficiency automatically. Just click the action button, as shown in the illustration below, and SmartDraw adds a new step.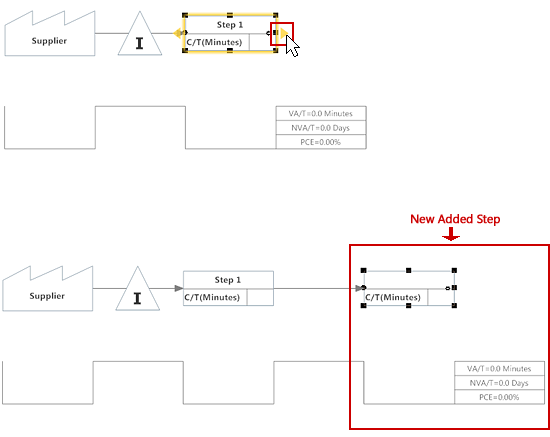 Making changes is also easy. Just delete or move steps. SmartDraw will automatically reformat your diagram, including connecting lines, and recalculate the data (as shown in the following illustration). Because you don't have to do any drawing, there's no time wasted. It's as fast and easy as using sticky notes on a board, but now you have a diagram that is always presentation-ready.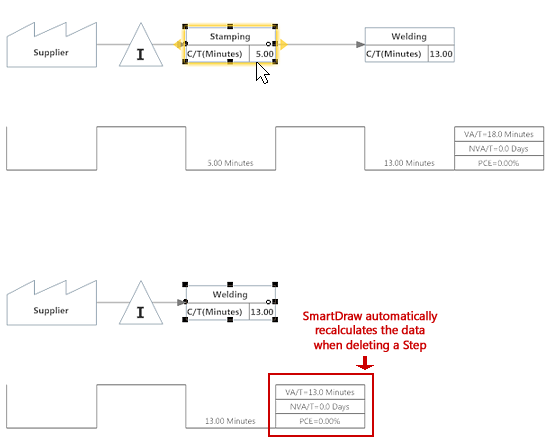 Add Information Flow and Other Visual Elements
With SmartDraw, you can easily add elements for information flow, Kanban posts, and Kaizen bursts to complete your VSM with ease. You can also attach notes and files, or add hyperlinks to web pages.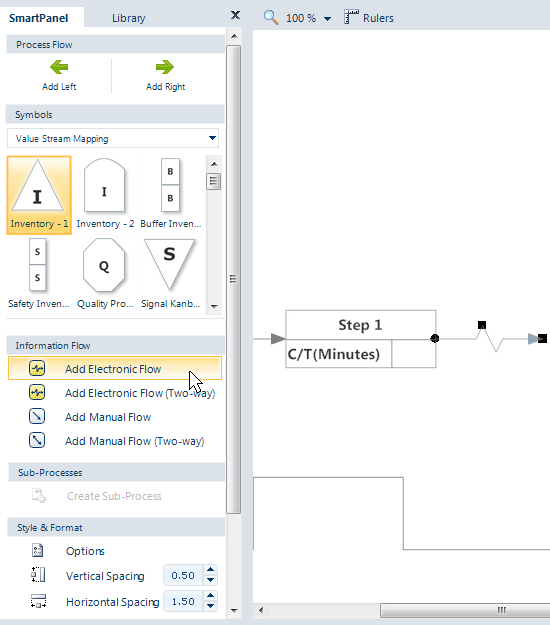 SmartDraw Gives You Other Lean Tools, Too
You'll also find these Lean Method visuals in SmartDraw:
PDCA Cycle
Process Map
Cause-and-Effect Diagram
Kanban Board
Spaghetti Diagram
5S
5 Whys
A3 Thinking
Red Tag
SIPOC Analysis
Top reasons SmartDraw is the best value stream mapping software:
Automatic Formatting
Click simple commands and SmartDraw builds your value stream map for you, automatically. Add or remove a symbol, and SmartDraw realigns and arranges all the elements so that everything looks great.
Quick-Start Templates & VSM Symbols
Professionally-designed value stream mapping templates make you instantly productive. With dozens of standard value stream mapping symbols, including Kanban signals, Kaizen Bursts, and much more, simply choose the value stream map example that is most similar to your project, and customize it to suit your needs.
Free Support
Got a question? Call or email us. SmartDraw experts are standing by ready to help, for free!
More than Just Value Stream Maps
SmartDraw is much more than just value stream mapping software. SmartDraw includes specialized templates for 70 different types of visuals—mind maps, org charts, data charts, floor plans, and more. Plus, there are hundreds of examples that you can easily edit and make your own.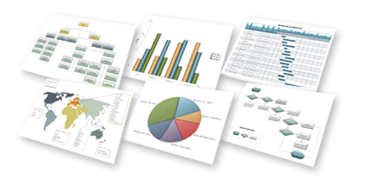 Discover why SmartDraw is the industry's best value stream mapping software. Try SmartDraw FREE.