SmartDraw Education Solutions Push Education Beyond the Book
SmartDraw increases comprehension and give students a competitive edge.
SmartDraw is the world's first visual processorTM. Just as the word processor makes it possible for anyone to create beautifully formatted written documentation, the visual processor makes it possible for anyone to create presentation-quality visuals just as easily.
How SmartDraw benefits students:
SmartDraw helps students retain what they learn in class.
When students visualize concepts and actually create the visuals themselves, they are more able to recall and retain what they have learned in class.
SmartDraw helps students communicate more effectively through the use of visuals.
We've all heard the expression "a picture is worth a thousand words," and we all know it's true. Whether it's communicating a business process with a flowchart or creating a crime scene reconstruction with a crime scene diagram, visuals are far more effective than words alone. SmartDraw enables students to easily harness the power of visual communication by making it easy for them to produce compelling visuals of all kinds in minutes.
SmartDraw helps students become more marketable in the workplace.
SmartDraw is used in thousands of organizations in every industry around the globe, including the U.S. Department of Justice, Coca-Cola, Hewlett-Packard, Nike, and more. Students who learn how to use SmartDraw in their coursework have a major head start over their peers in the job market because they'll be proficient in a tool use a tool that's well established in the workplace.
Two Ways to Integrate SmartDraw into any Academic Discipline:
Integrate SmartDraw Directly into Curricula
Giving students the opportunity to create their own visuals not only increases their grasp of the concepts, but also gives them practical hands-on experience that will prepare them for future careers in a variety of industries. SmartDraw makes it easy for textbook authors and curriculum developers to create readily assignable projects for any subject matter area.
Bundle SmartDraw with any Textbook
Through an exclusive partnership with Pearson Education, SmartDraw may be bundled with any textbook through the creation of a Value Pack. Pearson Solutions Managers are also available to help build assignments into specific courses.
Watch the Video
See how SmartDraw benefits both instructors and students.
Download Application Guides
For specific ideas on how to integrate SmartDraw into various curricula, including sample assignments, download the Instructor Application Guide:
Instructor Videos
Download Articles
Schedule a Live Online Demo
For an online demonstration, or to obtain a free evaluation copy of SmartDraw Academic Edition, contact:
Steve Peterson
National Account Executive
(858) 225-3312
speterson@smartdraw.com
Example Coursework Assignments Made with SmartDraw: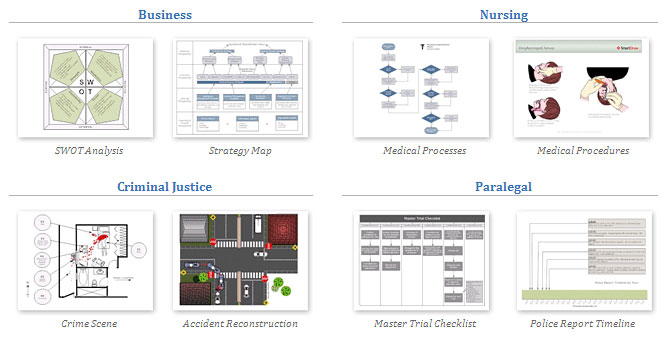 Content for Every Class
In addition to the examples above, SmartDraw includes pre-drawn templates and extensive symbol libraries for visuals used in every discipline and profession. And when they're done, students can export the visuals they produce in SmartDraw into any PowerPoint®, Word®, Excel®, or PDF document with a single mouse click.