Create Visual Gateways that Make Important Information Easy to Find
---

Any SmartDraw graphic can serve as a visual gateway to the data behind it. Link to websites, link to documents, or connect directly to other diagrams.
Keep the Information You Need Right at Your Fingertips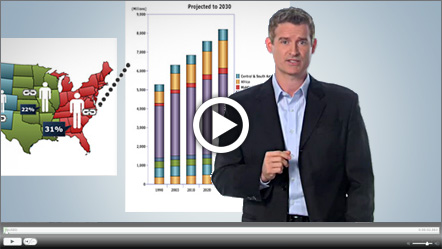 One of the most effective ways to harness the information that's most important to you, your customers and your business is by using SmartDraw.
SmartDraw gives you the ability to turn any map, diagram, chart or other visual into a gateway of information... in a single click. And you don't have to have any drawing skill or a graphics artist on your staff because SmartDraw automates the drawing for you.
Start with any of the 70+ types of diagrams in SmartDraw. Insert notes or pictures. Or link to documents, spreadsheets, PDFs stored on a cloud drive (like Google Drive, DropBox, or One Drive) or add hyperlinks to web pages. You can even link to other SmartDraw visuals and diagrams, all of which are automatically backed up to your secure, online SmartDraw account.
A gateway diagram saved in your SmartDraw account acts like a private web page. This information portal is accessible to you on any device, anywhere, any time. You may also choose to let others view it. Even those who aren't SmartDraw users may view your diagram, interact with the hyperlinks. You can even share your gateway diagram on your blog or social media network to keep your colleagues, customers and prospects connected to important information you want them to have, too.
Five Simple Steps for Creating and Using Visual Gateway Diagrams with SmartDraw
2. Link to websites, right from your SmartDraw diagram.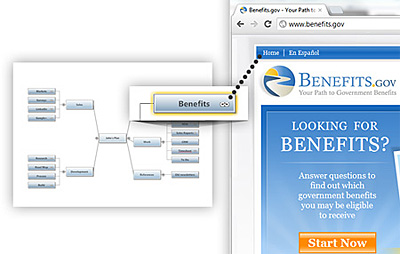 Adding links to web pages or documents stored in the cloud like Google Drive or One Drive is easy, too. Just click the HyperLink button and SmartDraw will insert a link to the web page you select. You can also use this feature to link to other SmartDraw files. This is a terrific feature to use in presentations or for linking flowcharts.
4. Publish and share them easily.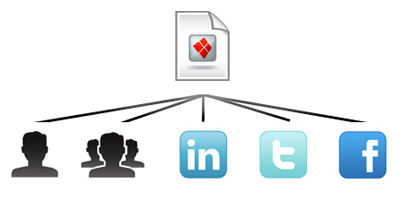 SmartDraw gives you many ways to share or publish your visual gateways. You can share directly with one person, a department, or the entire company. Post on your website, blog, or favorite social media page. You have full control over privacy settings.
1. Start with any SmartDraw chart or diagram.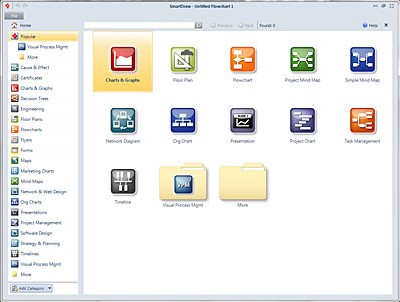 Use any of the 70+ different diagram types in SmartDraw to create a visual information gateway. Choose from charts & graphs, marketing diagrams, flowcharts and more. Any SmartDraw diagram will work as a central gateway for accessing documents and web pages.
3. Your diagrams are backed up automatically.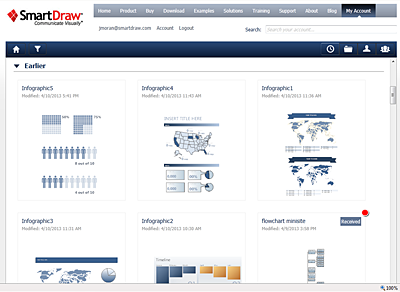 When you save your diagram, SmartDraw automatically backs up a copy in your secure online SmartDraw premium account.
5. Access and view them from any device.
You may access your SmartDraw diagrams from any device or browser. And since your links are also saved, just click on them and view the linked information from anywhere. There's also a free SmartDraw mobile viewer app for your iPad or iPhone.